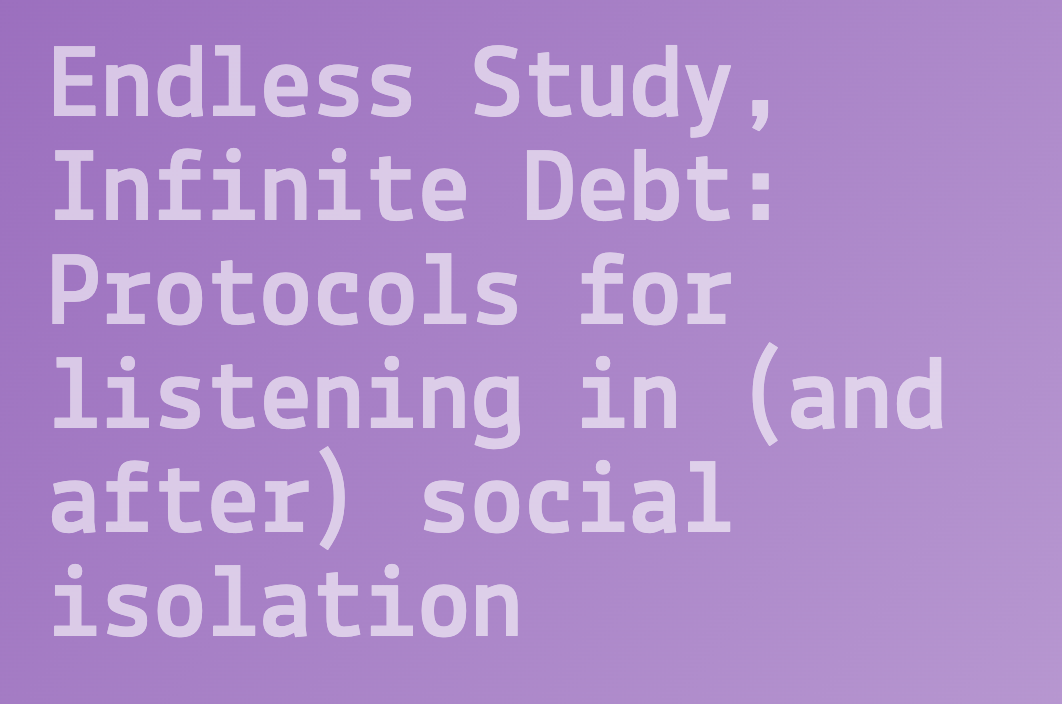 Protocols for listening in (and after) social isolation is an iteration of Endless Study, Infinite Debt, an ongoing collaborative investigation into how we research and share knowledge. The work was commissioned and curated by Liquid Architecture and Debris Facility for un-ear-thing, a program of experimental education and pedagogy.
This iteration of the project responds to the sudden onset of the COVID-19 pandemic and will ask how collective study is possible in a moment of isolation, physical distance, and increased surveillance. Specifically, we ask:
What does study look like in this moment of social isolation?
In what ways are sound, speech, and listening central to the question of study in this moment?
How can we work towards collective modes of study (reading, writing, speaking, listening, caring) while in isolation?
We want to know how we can work towards the construction of a radical social ground for future action.
'Protocols for Listening' will be facilitated by Snack Syndicate and six invited collaborators—Trisha Low, Kynan Tan, Jason De Santolo, Spence Messih, Tom Melick and Chris Gaul—to create a score for study in the midst of a global pandemic that has revealed to us the catastrophic end point of neoliberal austerity. Over a three-week period five of the collaborators will also facilitate a study session via video conference where their ideas can be elaborated and explored with a group of workshop participants. Visual design for the project was done by Chris Gaul.
Enter the project site here.