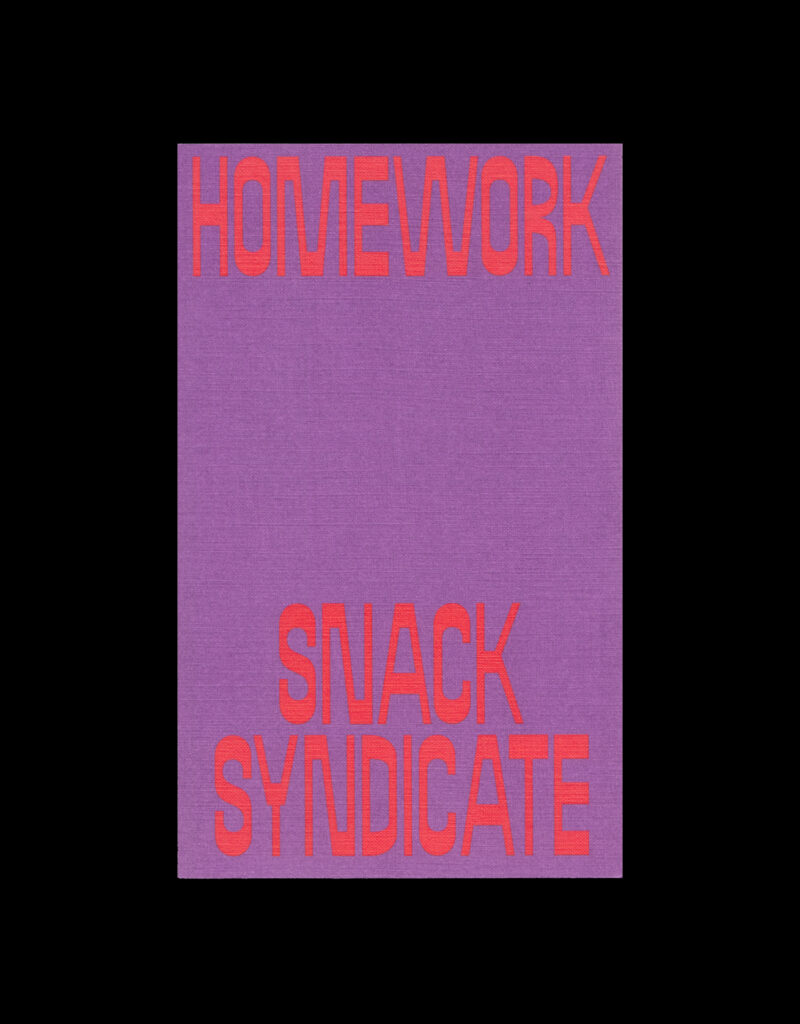 HOMEWORK (Melbourne: Discipline, 2020)
A collection of twenty-seven texts by Snack Syndicate, written over the course of 2016-2020. Published by Discipline, with an introduction by Tom Melick and design by Robert Milne.
HOMEWORK considers the manifold ways that embodied life (birth, death, love, friendship, solidarity, race, gender, sexuality, citizenship) are conditioned by a world that appears both ruinous and full of potential. Snack Syndicate asks how to read ruins and how to read the prophecy of hope that threads together a long history of survival and struggle. The book offers a guide for this reading, taking study to be a lifelong practice. It suggests a model for homework as the promise we make to each other through study and to the ghosts who carry us forward.
"HOMEWORK is done in all those 'illegitimate' places, which are everywhere, if one takes the time to look and listen. And even if done in isolation, in all the places where nonhistories live, this work is never done alone. Leave the geniuses to squabble over their canon, the best art usually occurs in kitchens, bedrooms, side-alleys, and public libraries. It is written in the margins, with love, alongside and through what we choose to read and hear. That's why this book invites snacks, coffee stains, and dog ears on top and bottom, let your notes trespass into and through the text. This is the best way to respond to books, and this book in particular."—from 'Homework for Love and Trouble' by Tom Melick
302 pages, 108 × 177 mm, Softcover, Edition of 400, ISBN 978-0-9945388-2-6
Available from Discipline